Key takeaways:
At least 385 people with COVID-19 are in the ICU, according to the province. 219 of the patients require breathing assistance from a ventilator.
On Saturday, 779 cases were discovered in children under the age of 12 years old. There were 988 cases discovered in children and teenagers aged 12 to 19.
Over 380 people in Ontario have been diagnosed with COVID-19, and 31 people have died as a result.
As per the province, at least 385 individuals with COVID-19 are in the ICU. 219 of the patients require the use of a ventilator to breathe.
248 ICU patients are not vaccinated or have an unknown vaccination record, as per Health Minister Christine Elliott, while 137 are fully vaccinated.
There were 337 ICU patients on Friday, compared to 288 on Thursday.
Also read: As hospitalizations reach 2,594, Omicron wreaks havoc on Ontario
In mid-June 2021, there were more than 380 people in Ontario intensive care units for the first time.
Over the last week, the number of people hospitalized with COVID-19 has risen, with at least 2,594 individuals being treated in an Ontario hospital as of Saturday.
A total of 13,362 new cases of the novel coronavirus were reported in the province on Saturday.
There were also 31 more deaths confirmed, bringing the total number of deaths in the province to 10,345. Due to data cleaning, one death was removed from the total.
On May 22, there were 31 deaths reported in 24 hours for the first time.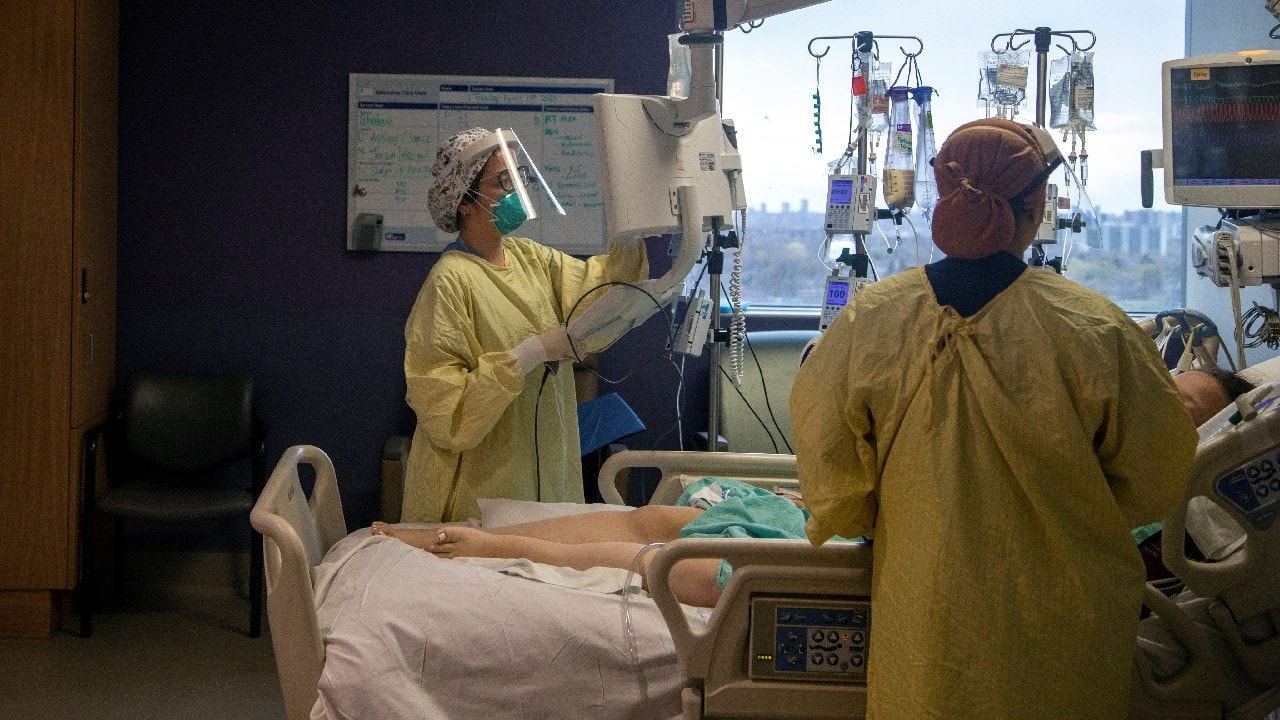 The Ministry of Health reports that the province's COVID-19 positivity rate is now around 30.6 percent, based on 55,700 tests processed in the last 24 hours.
The total of people who could get a COVID-19 test in Ontario has been significantly reduced. As a result, health officials have cautioned that the daily number of infections is likely to be underestimated.
In Ontario, at least 866,632 instances of COVID-19 have been confirmed since the pandemic began, including deaths and recoveries.
WHAT HAPPENED TO THE COVID-19 CASES?
With 2,422 COVID-19 cases reported on Saturday, Toronto has the highest number of infections. Peel Region had 1,736 infections, York Region had 1,086 infections, Hamilton had 929, Halton had 783, and Durham had 770.
On Saturday, Ottawa (894), Waterloo (607), Middlesex-London (448), Niagara (424), Simcoe-Muskoka (422), and Winsor Essex each reported more than 400 infections (412).
Over 100 new infections have been reported in six other municipalities.
Seven hundred and seventy-nine cases were discovered in children under 12 on Saturday. 988 cases in children and teenagers aged 12 to 19 were discovered.
There were 5,632 COVID-19 cases in people aged 20 to 39 and 3,935 cases in 40 to 59.
A total of 2,013 infections were discovered in people over 60.
COVID-19 cases were also found in 81 healthcare workers and 264 long-term care residents.
Six residents of long-term care facilities were among the 31 people who died on Saturday.
Source: CBC News
Get Canada and Ontario's top News, Market news, and other worldwide news only on Ontario Independent